The Property
WRS's New England-red barn features two wide aisles and accommodates 40 horses. A heated/ air-conditioned lounge provides comfort for clients and guests to gather and relax. Two wash stalls complete with hot and cold water as well as radiant heating permit year-round usage. A large locker is assigned to each boarder providing two saddle racks, hooks, shelving, and plenty of storage space for tack and equipment. The spacious 80' x 156 ' indoor ring adjoining the barn via a covered walkway is a bright, airy space, making it a pleasure to ride in. The footing consists of a mixture of sand and fiber specifically designed to support the equine athlete with the right amount of support and cushioning while simultaneously minimizing dust. Also added in 2010 a NEW 22,000 SQ-FT outdoor arena is a great place to ride during good weather. A grassy field and miles of trails are also available for outdoor riding enthusiasts.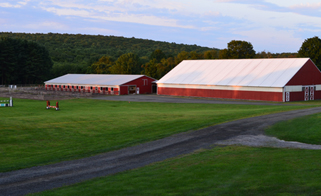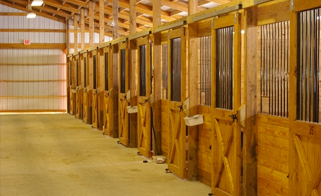 Diane Planken - Barn Manager
As the barn manager and a business partner of WRS, Diane works tirelessly to keep the needs of clients met and the barn running smoothly. Please contact Diane for all WRS business needs including boarding, lessons, and any other barn needs.
Our History
Owner and trainer Whitney Lagace founded Whitney Ridge LLC in 1999. With years of experience in the horse world, Whitney has worked with a variety of breeds across different disciplines. After residing in Durham for several years, the business opened in its new location in Higganum in November 2008. Whitney and her husband Mike purchased the property in 2007 and live in the historic yellow farmhouse. Since then, the couple has worked diligently to make their dream equestrian facility a reality.